CPCC Distinguished Seminar by Prof. Bjorn Ottersten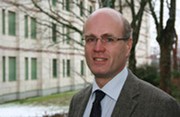 Title: Symbol-level Precoding - a Technology with a Potential in SatComs?
Date: June 10, 2019, Mon.
Time: 11:30 AM
Venue: CALIT2 3008
ABSTRACT
Symbol-level precoding (SLP) is an emerging technology for multi-user multi-antenna communication systems exploiting channel state information and individual symbol streams to achieve so-called constructive interference. We discuss the concept of SLP and present different design criteria to achieve improved spectral efficiency, lower power requirements and robustness against model impairments. Specifically, we describe the path of bringing this technology from theoretical studies to validation and use in the context of satellite communications. Some of the trends and challenges for future satellite systems are discussed from a signal processing perspective.
SPEAKER'S BIOGRAPHY
Bjorn Ottersten received the M.S. degree in electrical engineering and applied physics from Linkoping University, Linkoping, Sweden, in 1986. In 1989 he received the Ph.D. degree in electrical engineering from Stanford University, Stanford, CA. Dr. Ottersten has held research positions at the Department of Electrical Engineering, Linkoping University, the Information Systems Laboratory, Stanford University, the Katholieke Universiteit Leuven, Leuven, and the University of Luxembourg. During 96/97 Dr. Ottersten was Director of Research at ArrayComm Inc, a start-up in San Jose, California based on Ottersten's patented technology. He has co-authored journal papers that received the IEEE Signal Processing Society Best Paper Award in 1993, 2001, 2006, and 2013 and 8 IEEE conference papers receiving Best Paper Awards. In 1991 he was appointed Professor of Signal Processing at the Royal Institute of Technology (KTH), Stockholm. From 1992 to 2004 he was head of the department for Signals, Sensors, and Systems at KTH and from 2004 to 2008 he was dean of the School of Electrical Engineering at KTH. Currently, Dr. Ottersten is Director for the Interdisciplinary Centre for Security, Reliability and Trust at the University of Luxembourg. From 2012 to 2018 Dr. Ottersten was Digital Champion of Luxembourg, acting as an adviser to the European Commission. Dr. Ottersten has served as Editor in Chief of EURASIP Signal Processing, Associate Editor for the IEEE Transactions on Signal Processing and on the editorial board of IEEE Signal Processing Magazine. He is currently a member of the editorial boards of EURASIP Signal Processing, EURASIP Journal of Applied Signal Processing and Foundations and Trends in Signal Processing. Dr. Ottersten is a Fellow of the IEEE and EURASIP. In 2011 he received the IEEE Signal Processing Society Technical Achievement Award. He has received the European Research Council advanced research grant twice, 2009-2013 and 2017-2022. His research interests include security and trust as well as signal processing in wireless communications, radar and computer vision.